Trestle to Trestle Bridge to be Replaced in 2022
Posted by Angela McKenzie on Thursday, March 11, 2021 at 12:00 PM
By Angela McKenzie / March 11, 2021
Comment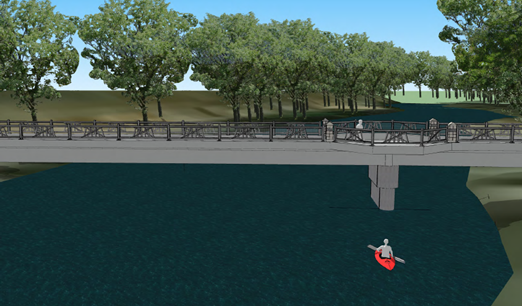 Sharing this EXCITING Des Moines area plan... we are looking forward to enjoyable adventures in our neighboring communities!
Roughly two years ago, ice jams collapsed the Trestle to Trestle Bridge that spans over Beaver Creek in Johnston. This bridge is the connector between the cities of Johnston and Des Moines and a key element of the very popular urban Trestle to Trestle Trail. Since the collapse, trail partners have been searching for funding for this $2 million dollar project. We are pleased to announce that funding has now been secured!
Funding sources include the cities of Johnston and Des Moines, Metropolitan Planning Organization, Polk County, Polk County Conservation, FEMA, and the State of Iowa. Invitations to bid the project will be solicited in July 2021, with anticipated construction being completed in the spring or early summer of 2022. Designers incorporated the trestle design in the railing of the new bridge to tie it to the past.
GREAT things we can look forward to in 2022
~Real Advantage Partners
home for sale in altoona iowa
homes for sale in altoona iowa
house for sale in altoona iowa
condos for sale in altoona iowa
condominiums for sale in altoona iowa
Buy real estate in altoona iowa
Sell real estate in altoona iowa
buy a home in altoona iowa
buy a house in altoona iowa
buy a condo
buy a condominium
sell my condo
sell my condominium
buy a lot
sell a lot
sell land
buy land in altoona iowa
list my home in altoona iowa
list my house
list my condominium
list my condo
home prices
condo prices
condominium prices
local realtor in altoona iowa
realtor near me
hire a realtor
real estate broker
real estate agency in altoona iowa
real estate agent in altoona iowa