Low Inventory May Impact the Housing Market This Fall!
Posted by Angela McKenzie on Thursday, October 1, 2020 at 10:30 AM
By Angela McKenzie / October 1, 2020
Comment
Real estate continues to be called the 'bright spot' in the current economy, but there's one thing that might hold the market back this fall and that is the very few homes that are on the market!
Buyers are continuously searching and purchasing homes, and are looking to capitalize on today's historically low interest rates, but there just aren't enough houses for sale to meet that growing need. Sam Khater, Chief Economist at Freddie Mac, explains:
Mortgage rates have hit another record low due to a late summer slowdown in the economic recovery…These low rates have ignited robust purchase demand activity…However, heading into the fall it will be difficult to sustain the growth momentum in purchases because the lack of supply is already exhibiting a constraint on sales activity.
According to the National Association of Realtors (NAR), right now, unsold inventory sits at a 3.1-month supply at the current sales pace. To have a balanced market where there are enough homes for sale to meet buyer demand, the market needs inventory for 6 months. Today, we're nowhere near where that number needs to be. If the trend continues, it will get even harder to find homes to purchase this fall, and that may slow down potential buyers. Danielle Hale, Chief Economist at realtor.com, notes:
The overall lack of sustained new listings growth could put a dent in fall home sales despite high interest from home shoppers, because new listings are key to home sales.
The realtor.com Weekly Recovery Report keeps an eye on the number of listings coming into the market (houses available for sale) and the total number of listings staying in the market compared to the previous year (See graph below):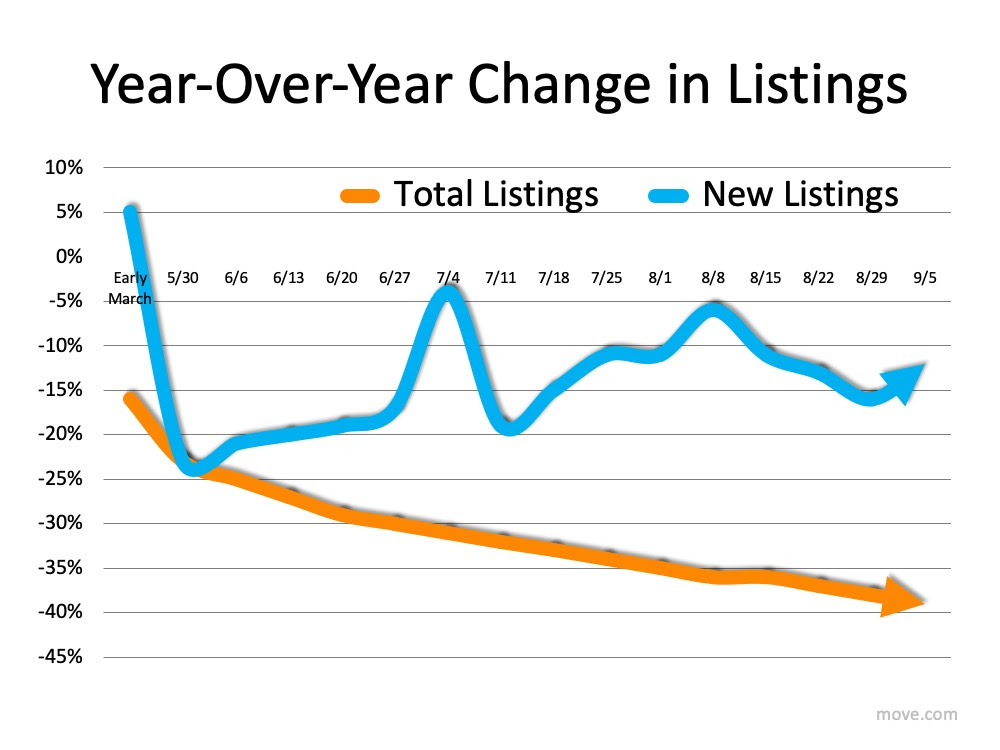 Buyers are clearly scooping up homes faster than they're being put up for sale. The number of total listings (the orange line) continues to decline even as new listings (the blue line) are coming to the market. Why? Javier Vivas, Director of Economic Research at realtor.com, notes:
The post-pandemic period has brought a record number of homebuyers back into the market, but it's also failed to bring a consistent number of sellers back. Homes are selling faster, and sales are still on an upward trend, but rapidly disappearing inventory also means more home shoppers are being priced out. If we don't see material improvement to supply in the next few weeks, we could see the number of transactions begin to dwindle again even as the lineup of buyers continues to grow.
Does this mean it's a good time to sell?
Yes. If you're considering selling your house now is the time to do so! As we have so many buyers in the pool right now!
home for sale in altoona iowa
homes for sale in altoona iowa
house for sale in altoona iowa
condos for sale in altoona iowa
condominiums for sale in altoona iowa
Buy real estate in altoona iowa
Sell real estate in altoona iowa
buy a home in altoona iowa
buy a house in altoona iowa
buy a condo
buy a condominium
sell my condo
sell my condominium
buy a lot
sell a lot
sell land
buy land in altoona iowa
list my home in altoona iowa
list my house
list my condominium
list my condo
home prices
condo prices
condominium prices
local realtor in altoona iowa
realtor near me
hire a realtor
real estate broker
real estate agency in altoona iowa
real estate agent in altoona iowa